3D IC TSV Back Grinding Process Inspection
WASAVI Series BGM300 3D 穿矽通孔檢查設備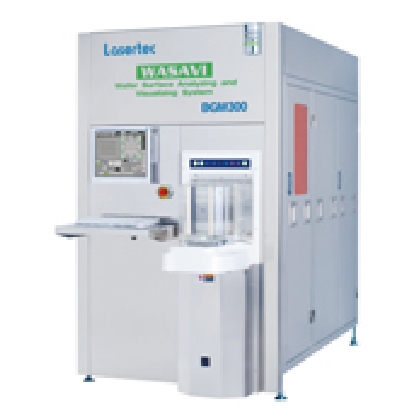 Lasertec Corporation today announced "BGM300"﹐ a new WASAVI* series product that measures silicon wafer thicknesses and TSV depths prior to back grinding process of 3D semiconductor device production. Lasertec is planning to deliver an initial unit of BGM300 to a major device manufacturer.
* WASAVI: Wafer Surface Analyzing and Visualizing System
Features:
•TSV depth measurements based on a combination of Lasertec-proprietary
interferometer and IR optics.
•Applicable to measurements in pre- and post-back grinding processes.
•BGM300 provides an optimum solution for back grinding process.
Applications:
•Pre-back grinding measurement of silicon thicknesses and TSV depths.
•Post-back grinding measurement of remaining silicon thickness (RST).
•Detection of abnormal adhesive thickness of bonded wafers.