DMA Series Switching Power Amplifier
DMA Series Switching Power Amplifiers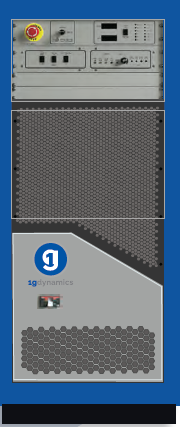 6 ~ 24 kVA and 10 ~ 400 kVA

1g Dynamics' Digital Modulation Amplifiers (DMA) are air-cooled and designed for maximum reliability and power efficiency. These DMA series amplifiers utilize the latest Class-E switching technology to provide a complete power source to the vibration system﹐ including the high power armature drive﹐ field supply﹐ vibrator cooling blower and all necessary safety interlocks for equipment and personnel protection.

The DMA series amplifier comprise of multiple 6 or 10 kVA power modules working in parallel﹐ driven by a separate DC source. Our smaller 6 kVA modules provide a cost effective power source for amplifiers up to 24 kVA. While the 10 kVA module is utilized for the larger amplifier and can be assembled to virtually any power level up to 400 kVA. Each module is made up from two independent sub-assemblies﹐ providing excellent load-sharing between all of the switching transistors involved and simplifiers field maintenance and power upgrades.

Managed by a high-speed microprocessor logic unit﹐ the intelligent logic control system assures high output power with maximum safety protection. High switching frequency delivers low distortion with full power output over a broad frequency band. System status is continuously displayed and fault events are displayed on the LED display. Any over-current﹐ over-voltage﹐ over-travel﹐ over-temperature﹐ loss of phase﹐ logic fault or short-circuit will trigger an immediate system shutdown. A remote control panel is available that duplicates the features and functions of the logic control module front panel.

(Photograph shows the DMA44e 24 kVA single bay power amplifier)
For further detail﹐ please contact us.