Mono-base and Stand-alone Slip Tables
Mono-base and Stand-alone Slip Tables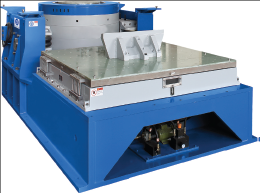 With today's demanding test requirements there is an increasing need for slip tables to facilitate testing in a horizontal position. 1g Dynamics offers mono-base and stand-alone slip tables available with low﹐ medium and high-pressure hydrostatic guidance bearings in standard sizes ranging from 300 mm (12 in) to 2500 mm (98 in). Virtually any size of slip table can be produced to suite the customer's required over-turning moment in the Pitch and Roll directions and Yaw axis when testing large payloads with an offset centre of gravity.

In a mono-base configuration the vibrator and slip table share a structural steel body that enables rapid conversion between vertical and horizontal positions﹐ and the accurate alignment of the vibrator relative to the slip table when rotated to the horizontal position.

In a stand-alone configuration an independent steel platform supported by leveling feet allows any vertical vibrator from 1g Dynamics or other manufacturer to couple with the slip table assembly.
(Photograph shows the D60 -98 kN mono-base vibrator with a 1200 x 1200 mm LPT Series slip table.)
For further details﹐ please contact us.