Special Customized Machines Made in Germany
Inspection Machine IPA 2014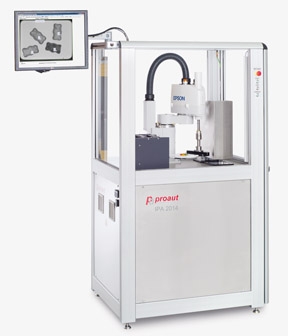 The IPA 2014 inspection machine is ideally suited for checking the quality of small parts in the production chain. The individual requirements of our customers are catered for by customer-specific handling and image processing modules.

Possible inspection criteria include:
• Dimensions (including those the micron range)
• Comparison with sample shapes (reference images)
• Position detection
• Flaws and completeness of geometrical shapes
• Optical character recognition (OCR)
• Reading of bar codes or data matrix codes
• Surface condition﹐ color

Function
The image processing system used evaluates lengths﹐ radii and the convexity of the front faces. It is possible to save an image for each inspected part﹐ visualizing the measured inspection criteria. In addition﹐ all measurement data are stored in a separate file for statistical analysis.